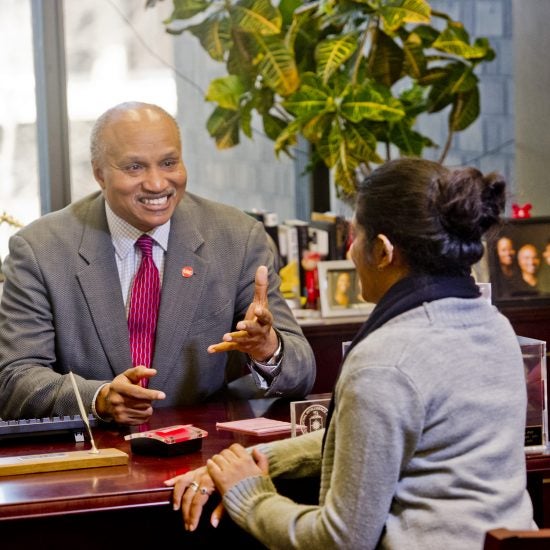 Program Administration
The Equity and Inclusion in Engineering Program is led by two professionals for whom the success of underrepresented students in engineering is a top priority: Gerry Smith, the College of Engineering's director of minority affairs, and Emily Marr, associate director.
Smith and Marr conduct outreach to underrepresented students who might consider a UIC education, plan programming to support current students at UIC, and meet one-on-one with our undergraduates. For current students, they are dedicated to offering direction on topics such as major choice, course selection, and career planning.
Learn about our services
Student Support Staff
One of the Equity and Inclusion in Engineering Program's greatest strengths is that it allows students to serve students. Undergraduate and graduate students play the roles below to help their peers achieve academically at UIC. Our student team members also take the lead in creating a sense of community in the program.
Graduate Assistants

Graduate assistants, who may be pursuing master's or doctoral degrees at UIC Engineering, provide valuable mentorship for fellow students and help to run outreach and admissions events. In the summer, they serve as instructors in the Preparation for Majoring in Engineering program, helping incoming freshmen to make the transition into the college environment.

Undergraduate Student Workers

Undergraduate student workers, who work on an hourly basis during the week, help to maintain the academic atmosphere in the Equity and Inclusion in Engineering Program suite and complete office work. During the summer, they help our graduate assistants and administrators to run the Preparation for Majoring in Engineering program.

Supplemental Instruction Tutors

Supplemental Instruction (SI) tutors support the academic success of their fellow students. They have earned a grade of B or better in a course and help to impart their knowledge to students who are now taking that class. Their peer-to-peer methods help to break down complex engineering concepts that students may not have grasped for the first time in class.